At the 2018 Broadcom MASTERS (Math, Applied Science, Technology, and Engineering for Rising Stars) competition, The Lemelson Foundation awarded the Lemelson Award for Invention to Salem, Oregon student John Madland for his project: Terrella Aurora Model: A Demonstration of Charged Particle Shielding for Space Exploration.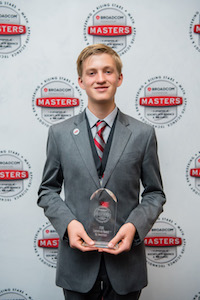 He was one of the 30 middle school student finalists at this year's competition in Washington, D.C. Broadcom MASTERS was founded and produced by the Society for Science & the Public to inspire young scientists, engineers, and innovators to solve the grand challenges of the future.
The Lemelson Award for Invention is awarded each year to a young inventor creating promising solutions to real-world problems.
John Madland teamed up with another Salem middle school student, Mihir Joshi, to create a model showing that a magnetic field above the surface of Mars might protect future inhabitants from radiation.
Read more about John and Mihir's project and the other 2018 Broadcom MASTERS winners.