This college student is tackling climate change by making eco-friendly cars more affordable
"How can we take people who have been left behind by the sustainable movement and bring them in?
That question is what—quite literally—drives Blake Turner, a first-generation college student from rural Oregon who has invented a game-changing hydrogen conversion kit for cars.
Behind the wheel of his turquoise 1963 Chevrolet Corvair, Turner may not at first glance look like an ambassador for fuel efficiency. But pop open the hood and prepare to be surprised: Turner's old-school engine is outfitted with a kit that can convert any gasoline-burning engine into one that burns zero-carbon hydrogen instead.
It's a working prototype that Turner hopes to one day scale. His goal? To provide an alternative for people who want to drive eco-friendly cars but can't afford the options currently on the market. "By taking the car that you already have and converting it," he says, "it's tremendously more sustainable, because you're not throwing away an old car and buying a new one."
Invention hadn't been part of Turner's original plan. Growing up in the smaller city of Medford, Oregon, he'd made up his mind in middle school to follow a very practical path: enroll in community college after high school, then go to a university, then find a job as an automotive engineer. The career choice made sense to Turner. For one thing, he'd inherited a passion for cars—especially the classics—from his dad.
For another, he'd grown up in a "do it yourself" kind of household. "Because we didn't have a lot of money," he says, "If you want to fix something, you can't just take it to the mechanic, you have to fix it yourself." And so early on, he developed a knack for rebuilding things.
But an Earth Day chemistry project shifted his course entirely.
It was the spring of 2018, and Turner was taking classes at Rogue Community College near his hometown of Medford. For Earth Day, his chemistry teacher had given the students an environment-themed assignment: Develop an idea that could help mitigate climate change.
A recent class unit had been on combustion, says Turner, and combustion always brought one thing to his mind—a car engine. What if, he wondered, a car's gas-guzzling engine could be converted to instead run on clean-burning hydrogen? "I did the math," he says, "and found out that it's not only possible but it's actually practical." The idea for his chemistry project was born.
After putting the project together and presenting it, Turner moved on to other things. "I made my little booth and I gave a little talk about it, and that was kind of it," he says.
Then a mentor suggested he take his idea a step further—build a prototype and bring it to InventOregon, a regional collegiate invention competition sponsored by Portland State University (PSU). "I sat back and thought, well maybe I can make that for real," says Turner. So, using the engine from his own classic Corvair, he did just that.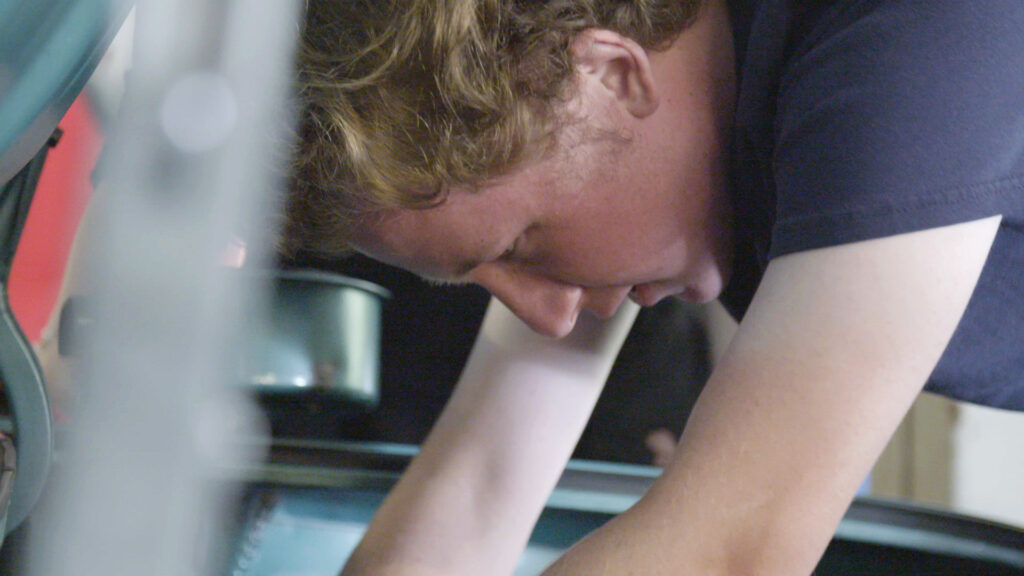 After a bit of trial and error with a smaller Go-Kart engine, Turner successfully converted the car's engine to burn hydrogen. Along with a few other engineers and his sibling, Mel, he designed a kit that could be bolted onto the engine and activated by a switch inside the car to convert from gasoline to hydrogen. "You don't even need to get out of the car."
They entered it into the competition, but bringing the prototype into the building raised a few eyebrows, he remembers. "The Hindenburg always comes to mind whenever you talk about hydrogen."
Just getting the car inside was a feat, because the transmission had broken, and the team had to push it up a ramp. And then, after all of that effort, they didn't win a single prize.
Still, Turner wasn't discouraged. He spent the next several months tweaking his design and learning about how to sell his idea and turn it into a business. He moved to Portland and attended PSU, where the Business Accelerator program helped him develop the concept even further. He hired Mel as media manager and a business student, Sean Krivonogoff, as business manager. He had always thought of himself as an inventor, Turner says. Now he was beginning to think of himself as an entrepreneur as well. He founded his own startup company with his sibling and Krivonogoff, called Turner Automotive.
The team entered another invention competition at PSU called CleanTech. This time they won—the grand prize, as well as most of the secondary prizes. The team then entered again at the 2019 InventOregon and walked away with second place and the People's Choice Award.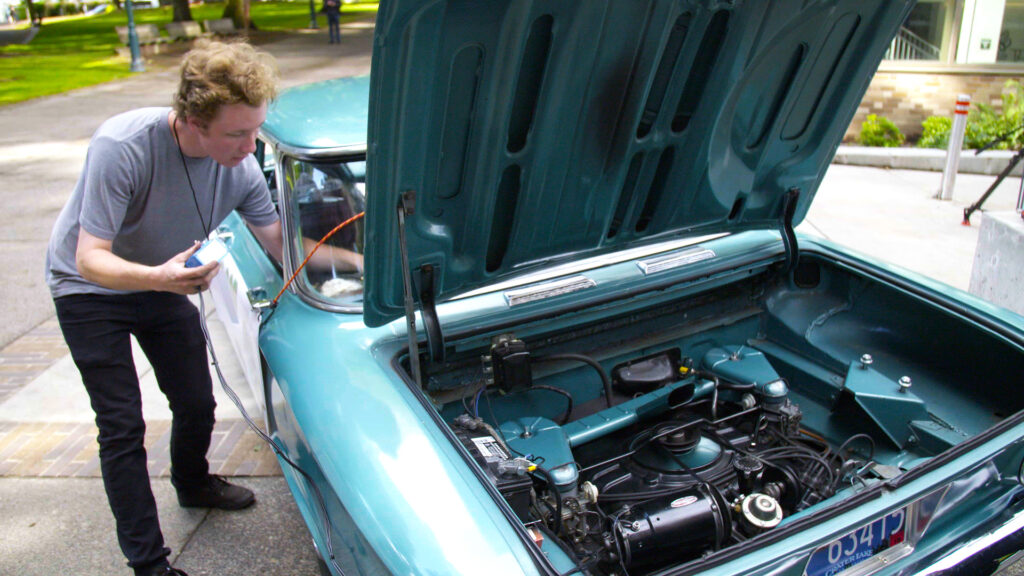 They continue to enter tech, invention, and sustainability competitions and continue to demonstrate their kit in front of a wide range of audiences. They've also raised additional funds to turn their prototype into a reality.
At the end of the day, Turner wants to have a social and environmental impact. "I feel that climate change is by far the biggest issue we have to overcome as a society," he explains. And in his quest to make environmental responsibility within reach of everyone, he takes his inspiration from an even more classic car – the Model T. While it wasn't the first automobile invented, it was the first one that was widely affordable to a large segment of the population.
That's the kind of impact I want to have," Turner says. "Making something that even if people don't know my name, they can use and benefit from."
ARVE Error: src mismatch
provider: youtube
url: https://youtu.be/0eCuosZiCuY
src in org: https://www.youtube.com/embed/0eCuosZiCuY?feature=oembed&wmode=opaque
src in mod: https://www.youtube.com/embed/0eCuosZiCuY?wmode=opaque
src gen org: https://www.youtube.com/embed/0eCuosZiCuY