A pattern-sensing doormat was inspired by eighth grader Jeanelle Dao's family history with hand disability.
An eighth grader at Stratford San Jose Middle School in California, Jeanelle Dao is unlocking a solution to a problem that she learned about through her grandfather. He had arthritis in his hands, which made opening doors with a key not only difficult but also painful.
"Currently three to six percent of people have carpal tunnel [syndrome] while 12 percent have osteoarthritis," Jeanelle says. "And both of these hand disabilities make it painful to use the joints that you would need to turn a key to unlock your front door."
A seventh-grade science fair gave Jeanelle the opportunity to design her solution. She began with a large dance mat — the kind meant to accompany video games — and began iterating on it, building custom circuit boards and wiring, until she landed on her invention, a wireless mat that is programmed to unlock a deadbolt in response to a specific, password-like set of foot taps.
"So basically people with hand disabilities don't need to worry about the pain caused by using a key, because there is no key," she says. "Something as simple as tapping your foot to the beat of a song could be the password to unlock your front door."
Called CONDUITS (Controlling Doors Using Interface Technology with Steps), Jeanelle's project took her all the way to the Broadcom MASTERS (Math, Applied Science, Technology and Engineering for Rising Stars) competition for middle school students last year, where she won the 2022 Lemelson Award for Invention.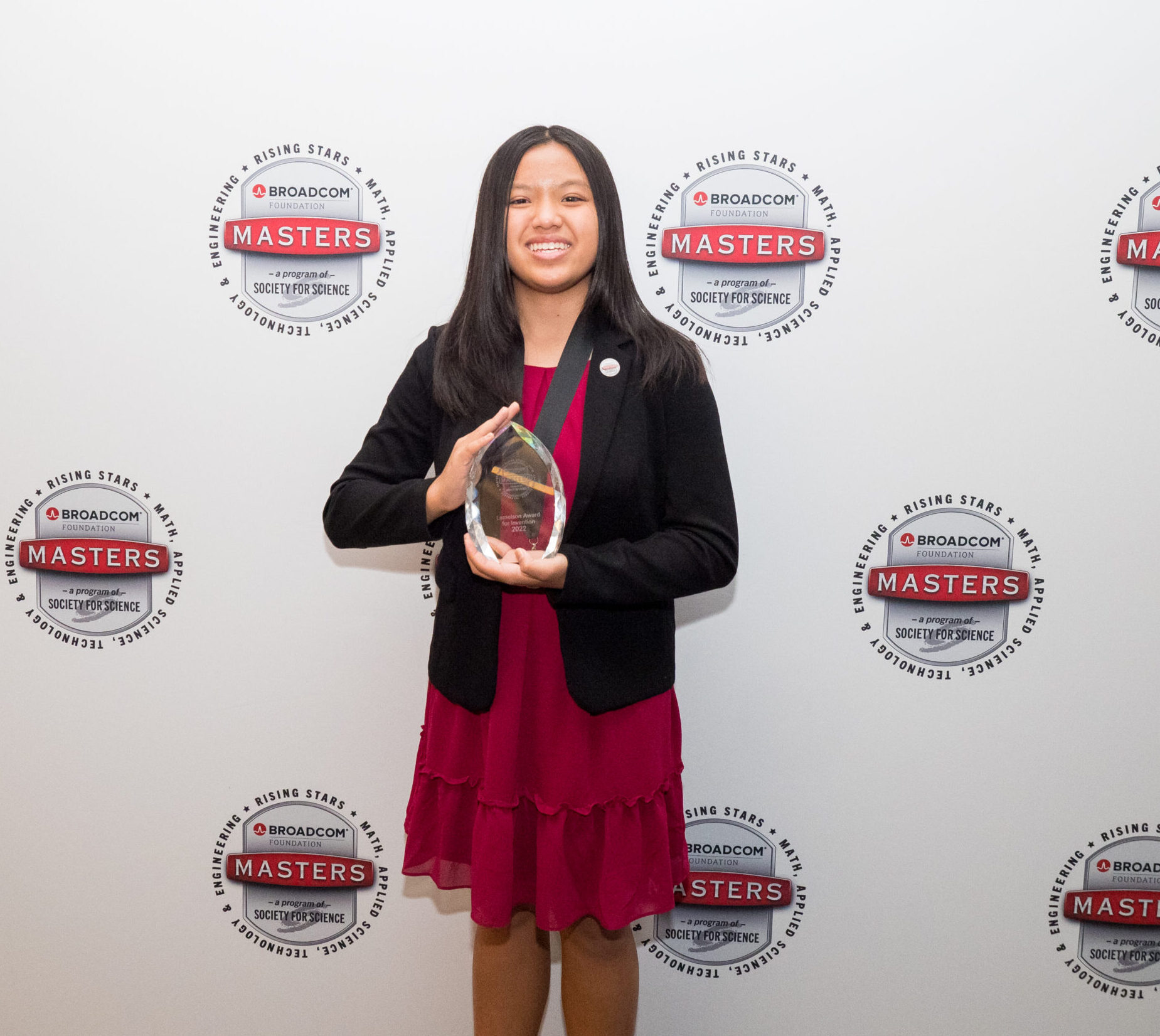 Run by the Society for Science and sponsored by the Broadcom Foundation from 2010 to 2022, the annual competition aims to increase the STEM talent pipeline by inspiring the next generation of scientists, engineers, and inventors to solve some of the future's biggest challenges. This year it will continue as the Thermal Fisher Scientific Junior Innovators Challenge.
Jeanelle's interest in STEM and invention started at a young age. She was a curious child, she says, "always trying to figure out the magic that made things tick." In elementary school, a program called The STEAM Lab further sparked her love of tinkering and unbounded creativity. "They had green screens, iPads, and lots of random materials," she says. "Our teacher, Ms. Talley, would give us challenges and we could use anything in the STEAM Lab to try to solve it."
For Jeanelle, teachers like Ms. Talley and others at her middle school have been key to instilling and supporting her desire to build and create. "To me a great teacher or mentor is someone who encourages you to figure things out on your own," she says. "They won't just tell you the answer — because you don't learn that way."
Her parents and siblings have also encouraged her, she says, and given her the freedom to explore her ideas. She often consults with her father, who is an engineer. "My dad will help if I'm soldering or something," she chuckles, "to make sure I'm not being dangerous with a hot piece of metal."
Jeanelle aspires to be an engineer like her father, and to not only create something that helps people and changes their lives, but also to pass on her drive for innovation.
To other aspiring engineers, inventors, and problem-solvers, she offers this advice: "Don't feel pressured to make your thing work the first time. Admitting that something you made doesn't work is okay, as long as you don't just stop there — because the possibility of failure also comes with the possibility of success."