"STEM-thusiast" Nate Ball Recommends Shifting Gears and Thinking Like an Inventor
As pandemic life persists, millions of parents are facing the same daily dilemma: How to keep kids engaged and inspired in a time when so much of the world is off-limits. For inventor and father of two Nate Ball, the solution involves equal parts creativity and persistence — and perhaps a handful of rubber bands and a couple balloons.
Ball is a mechanical engineer, beatboxer, pole-vaulter, and self-described "STEM-thusiast." He's also an Emmy award-winning host of the PBS children's show, Design Squad, and the co-founder and CEO of Atlas Devices, a technology company that creates innovative solutions for security, defense, and rescue applications.
"We build real-life super hero gadgets for real-life super heroes," he says. One example is the Atlas powered rope ascender, an invention that Ball created with three fellow graduate students when he was at MIT. A relatively small, lightweight mechanism that can lift more than 250 pounds at ten feet per second, the ascender eventually received funding from the U.S. Army and won Ball a Lemelson-MIT Student prize in 2007. It has since been used in countless rescue operations from the United States to Afghanistan.
For the last couple of months, Ball, like most people, has been stuck at home. A native Oregonian, he lives near Portland with his wife and two young sons, Leo, who is six, and Calvin, who is four. Upbeat and kid-like himself when it comes to his curiosity and zest for life, Ball is the kind of person who seems capable of generating fun under any circumstance. Still, he admits that parenting in quarantine is tough. "I mean, I go into my closet and scream just like every parent these days," he says.
One thing that has struck him recently is the similarity between life in a pandemic and life as an inventor. Each, Ball says, is characterized by uncertainty and discomfort as you push boundaries. "But if I apply some creativity and some resourcefulness and a lot of persistence," he says, "I can navigate it."
Ever the motivator, Ball is now committed to helping other parents and kids navigate it too. Since March he has been producing livestream videos for Facebook filmed in his home workshop in which he invites viewers to join him in invention projects using common household supplies: pencils, sponges, milk cartons, and yes, rubber bands and balloons.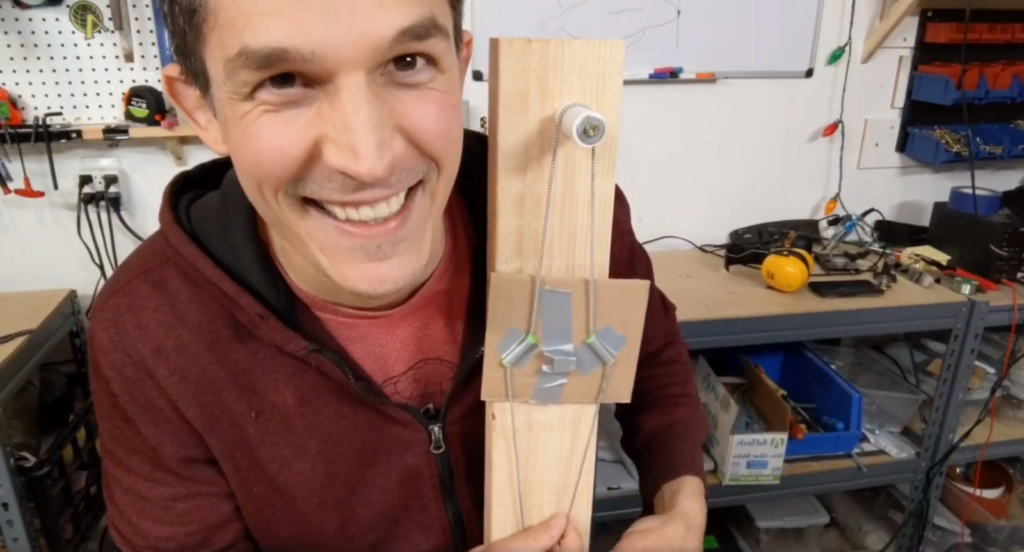 The show is aimed at kids and getting them excited to build and learn at home, but it's meant for parents too. "If you can prepare yourself and the environment for your kids," says Ball, "learning will naturally happen." That doesn't mean leaving your child alone in the garage with a hot glue gun, he says, but it does mean giving your child access to a few age-appropriate supplies and tools, and then stepping back.
It means accepting that there will often be a mess to clean up and, sometimes, a need for band aids. But he's also big on the importance of safety equipment. "It warms my heart," he says, "when Leo walks into the shop and I'm working on something and he says, 'Dad, can I have safety glasses and hearing protection?'"
With his own young children, Ball lets them get messy and frustrated as they build and create. He advises patience while they work through, say, a design problem, and become frustrated. "The kids are going to get really upset when their stuff doesn't work," says Ball, but in the end, if they succeed on their own without a hovering parent trying to fix everything for them, "it is so, so worth it."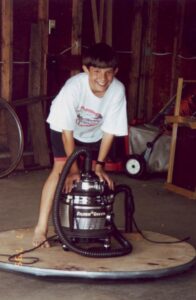 Ball grew up in Newport, Oregon, and credits his own mother and father, who were music and physics teachers respectively, for his interest in STEM and inspiring kids to invent. "Growing up there was always a really permissive environment for exploring whatever we were interested in," says Ball, who has an older and a younger sister. That doesn't mean his parents let him use tools without supervision or instruction, he says, but they did allow him and his sisters to play and create — whether it was a Lego tower or a Tesla coil or a three-act play — through trial and error.
One thing that was not allowed in their household? Ironically for his later career, television. But Ball was inspired by watching MacGyver weekly at his grandmother's house, and he has since used the medium of television and phone screens to inspire even more kids to become inventors.

As COVID-19 continues to keep families at home and schools closed, Ball hopes his Facebook live streams will spark kids' imaginations and engage them. He also hopes to reach and inspire children who are often underrepresented in STEM, including children of color, children from lower income backgrounds, and girls.
"Families are drastically differently equipped to weather all of this," he says. So Ball is intentionally building his online design challenges around typical household objects. "Big ideas with small materials," he says. He has also made all of his content free, and — by using social media as his platform — easily accessible to most people.
Ball's parting advice to parents who want their kids to be resourceful as well as resilient?
"Know that your best value is in helping facilitate their own learning experience — you've got to not step in and save them too much."