Throughout history, innovators from diverse backgrounds have helped change the world and improve lives. To celebrate Black History Month, we're highlighting 12 past and present Black inventors whose impact ranges from medicine to voting accessibility.
In February, we commemorate Black History Month and celebrate National Inventors' Day — an opportunity to showcase both pioneering Black inventors in history as well as contemporary Black inventors, innovators, and entrepreneurs who are making history.
Invention drives our economy. Our Founder, Jerry Lemelson, believed that, "Every new American inventor is a potential new American business." And we have seen that the benefits of invention are greatest when all members of society are encouraged to contribute their creative approaches for addressing tomorrow's challenges.
To create the solutions of the future, we need innovators from diverse backgrounds and perspectives. And to help cultivate the next generation of problem-solvers who can reach their full potential, we need equitable pathways to invention and entrepreneurship.
The Lemelson Foundation is committed to making this a reality through our grantmaking and by supporting the equity work of our partners. Here are just a few:
Invent Together — a coalition of universities, nonprofits, companies, and individuals who advocate for policies to help close the patenting gap for inventors of color and underrepresented communities.
The nonprofit VentureWell has created extensive resources for inclusive entrepreneurship in higher education.
And the Smithsonian's Lemelson Center for Invention and Innovation has produced Inspiring STEM Pathways, a storytelling initiative with contemporary Black inventors and accompanying curricula to provide role models for the next generation.
Below is a selection of historic and contemporary Black inventors whose work has helped change the world and improve lives.
In response to legislation that promoted voting accessibility, Dr. Juan Gilbert invented the Prime III – a universally-designed, touch-screen-accessible voting system that any voter can use, regardless of mobility, vision, or hearing impairments. Gilbert's technology was the first of its kind to be used in elections at all levels of government.
Dr. Marian Rogers Croak is a pioneer in Voice over Internet Protocol (VoIP), which allows phone calls and other voice traffic to travel using the internet, and the inventor of text-to-donate technology. Dr. Croak uses her passion for helping people as a Vice President at Google, where she works in reliability engineering as well as racial and social equity.
Known for his excellent workmanship, Elijah J. McCoy was a Canadian-American engineer and inventor. He received his first patent in 1873 for the automatic engine lubricator, a device that automatically lubricated steam engines in ships, trains, and factory equipment.
Marie Van Brittan Brown invented the first home security system in 1966. Patented in 1969, Brown's invention pioneered the CCTV security system and paved the way for the security systems used across society today.
Co-founder of Ai-Ris, TJ Falohun is creating a low-cost, user-friendly device that can diagnose diabetic eye disease outside of a clinical setting. Falohun is driven by his desire to help underserved communities, which are disproportionately affected by diseases like diabetes, and hopes to develop more novel medical technologies to help those in need.
Born from her childhood love of double-dutch, Tahira Reid's Double-Dutch machine earned her a patent and media attention. As the machine awaits production, Reid serves as an Associate Professor of Mechanical Engineering at Purdue University and works on human-machine interactions.
Dr. Arlyne Simon is a biomedical engineer, entrepreneur, author, and the inventor of a patented blood test that detects when cancer patients are rejecting bone marrow transplants. Her children's book series, "Abby Invents," introduces kids to problem-solving and the invention process with the goal of encouraging them, especially young women, to pursue STEM careers.
Marjorie Stewart Joyner created and patented a permanent hair-wave machine, a styling device that uses multiple heated rods to curl hair more efficiently, and a scalp protector to prevent damage for clients during the styling process. As a leading executive working closely with Madam C.J. Walker, Joyner continued to advance Black beauty culture through education, legislation, and community service.
As an engineer and electromagnetic specialist at Boeing, Nathan Brooks invents ways to improve geolocation technologies for rockets, airplanes, and missiles. For his award-winning work, Brooks was named Boeing Defense Space and Security Engineer of the Year and is Boeing's first African American Senior Technical Fellow.
Born in rural Kenya, Anthony Ruto's passion for engineering eventually led him to London, where he currently holds the position of Director of Research Engineering at Autodesk. Ruto's patents range in category, from generative design and furniture design, to developing a cancer patient monitor that tracks movement and abnormal breathing.
Inspired by a family trip to Nigeria, first generation Nigerian-American Jessica Matthews invented the Soccket — a soccer ball that gathers and stores energy. Now, she has over 10 patents to her name for similar energy-harnessing devices and is the Founder and CEO of Uncharted Power, a startup company using energy to develop sustainable power systems globally.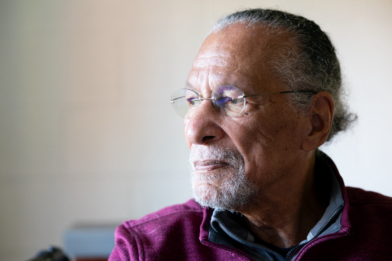 Jim West invented the electret microphone in 1962, a high-performing, low-cost technology that is used in ninety percent of today's microphones. A leader in acoustic science, West holds more than 250 US and foreign patents and is a strong proponent of equality and mentorship in STEM.